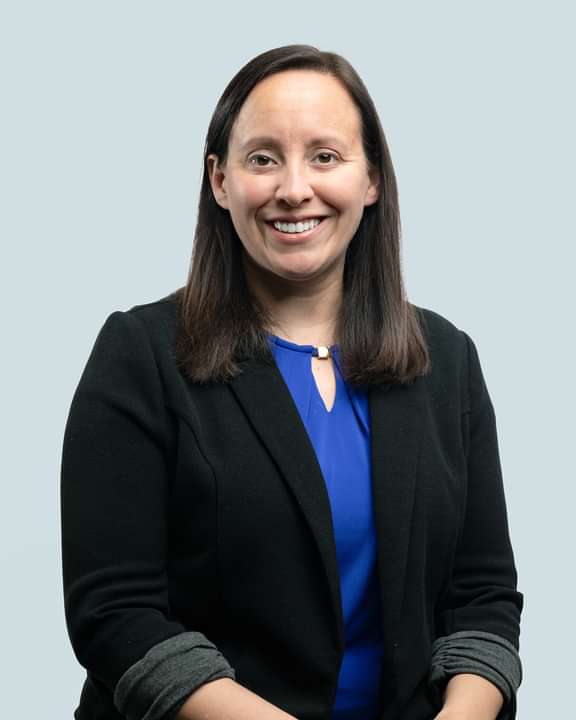 Jennifer A. McHugh
About Jennifer
Jenny practices in the firm's litigation and employment law departments. She represents clients in matters involving public entity and public employee liability, civil rights, law enforcement liability, employment-related litigation, sexual harassment and discrimination-related litigation, business disputes, non-compete litigation, and commercial litigation. She regularly practices in both state and federal courts at the pretrial, trial, and appellate stages of litigation, and has argued cases before the Sixth District Court of Appeals and Third District Court of Appeals.
Jenny actively practices in the areas of employment and education law. She represents employers concerning compliance with various laws; defends school districts in special education proceedings, and defends employers against discrimination, harassment, and retaliation claims in litigation and before administrative agencies, including the Ohio Civil Rights Commission and the U.S. Equal Employment Opportunity Commission. Jenny prepares employee handbooks and policies for employers, conducts workplace and Title IX investigations, and advises employers on compliance-related issues involving employment law.
Every year since 2014, Jenny has been recognized by Ohio Super Lawyers as a "Rising Star." She also holds an "AV Preeminent" rating through Martindale Hubbell.
Jenny has served as the Chair of the Toledo Bar Association's Public Law Committee, and is a past Co-Chair of the organization's Young Lawyers Committee. She is a graduate of Leadership Toledo, and she served on the Leadership Toledo Board of Trustees for 6 years, including a term as Board President. Jenny is a board member with Read for Literacy and a member of the Kiwanis Club of Toledo. Jenny speaks and presents on matters related to litigation, employment, police liability, and education law, and has taught Special Education Law to graduate students at Lourdes University.
A native of northwest Ohio, Jenny graduated from Arlington High School and continued her education at Heidelberg College and the University of Toledo College of Law.
Affiliations
Leadership Toledo Board of Trustees (Past-President)

Leadership Toledo, Class of 2014

Read for Literacy, Board Member

Kiwanis Club of Toledo

Ohio School Boards Association's Council of School Board Attorneys

Ohio State Bar Association

Toledo Bar Association - Public Law Committee (Past-Chair); Past-Member and Co-Chair of Young Lawyers Committee

Toledo Women's Bar Association
Education
Heidelberg College (B.A. 2006, summa cum laude)

University of Toledo (J.D. 2009, with honors)

University of Toledo Law Review, Assistant Executive Editor
Bar Admissions
All Ohio Courts

U.S. District Court, Northern District of Ohio

U.S. Court of Appeals, Sixth Circuit
Practice Areas
Accreditation, Certification, & Licensure
Our attorneys have experience in helping systems and various types of providers with their accreditation, certification, and licensure needs, as well as representing them in front of applicable regulatory boards.
Appellate Practice
A decision in the trial court is rarely the end of the litigation process. When selecting an attorney for an appeal, it is vital to obtain counsel who will be successful at the appellate level. Our attorneys routinely prosecute and defend appeals in the Ohio Supreme Court, various Ohio intermediate appellate courts, and administrative appeals in a variety of judicial and regulatory forums.
Civil Rights
Our attorneys are skilled in defending clients who are sued or named in administrative proceedings in connection with alleged civil rights violations including claims based upon disability, age, race, ethnic origin, and religion. In addition, Spengler Nathanson has represented numerous public entities in connection with Sections 801 and 830 civil rights claims, including a number of county and municipal law enforcement agencies.
Commercial Disputes
Commercial law regulates corporate contracts, hiring practices, and the manufacture and sales of consumer goods. Our attorneys provide valuable legal counsel when commercial disputes arise. We have effectively represented corporations, partnerships, agencies, joint ventures and franchises in a myriad of disputes.
Constitutional Rights
Public sector clients must be aware of the constitutional rights of their employees and members of the public. Our attorneys assist clients in handling many types of constitutional rights claims including: First Amendment claims (religion, free speech, right to participate in union activities), due process and equal protection claims, and claims against law enforcement personnel, child protection agencies, park districts, and publicly operated nursing homes.
Construction Disputes and Claims
When a construction project does not go according to plan, claims are likely. Our attorneys have represented all parties in the construction arena, including architects, engineers, surveyors, construction managers, general contractors and subcontractors, in claims arising out of the construction of residences, commercial buildings, roadways, bridges, landfills, sanitary sewers, waterlines and public water supply systems.
Contract Disputes
Our attorneys have considerable experience representing clients in connection with all types of contract disputes, written or verbal. If you think you have a contract and feel the other party has not lived up to their end of the deal, we will help you to determine whether a contract exists and whether or not it is capable of enforcement.
Discrimination (Administrative Charges)
Our attorneys represent employers in administrative proceedings brought by the Equal Employment Opportunity Commission (EEOC), Ohio Civil Rights Commission (OCRC), the Office for Civil Rights (OCR) and other administrative bodies in matters which involve the employers' compliance with a broad variety of civil rights statutes.
Employee Handbooks
Employee handbooks are excellent tools for outlining consistent employer practices, and for preserving employer flexibility and management rights such as employment at will. Our attorneys frequently review employee handbooks for compliance with federal and state employment laws, and recommend language and policies to protect employers and their businesses.
Employment Claims
In addition to representing employers in unemployment and workers' compensation claims, our attorneys advise employers on compliance with local, state, and federal laws affecting employment, including the American with Disabilities Act, Title VII, Ohio's civil rights law, the Family and Medical Leave Act, and applicable wage and hour laws. We also advise employers on terminations and represent employers against claims brought by terminated employees.
Employment Discrimination Defense
Our attorneys frequently defend employers facing charges or lawsuits alleging employment discrimination. Although the law is well-intended to protect employees from workplace discrimination, it is unfortunately common for employers to have to defend against unfounded claims of employment discrimination. Our lawyers have secured the dismissals of hundreds of employment discrimination claims before the Ohio Civil Rights Commission, the Equal Employment Opportunity Commission, and in state and federal courts.
Healthcare Litigation
Spengler Nathanson attorneys are experienced in many types of healthcare-related litigation, from malpractice defense and nursing home defense to medical device/products litigation and non-compete enforcement actions.
Insurance Defense
Spengler Nathanson attorneys have defended insureds for over 40 years as panel counsel for such insurance companies as St Paul Insurance, Travelers Insurance, CNA Insurance and HAS. Counsel, the insured, and the claims handler work together to bring the claim to a desirable outcome.
Labor and Employment
Spengler Nathanson attorneys are well-versed in helping employers in various industries with labor and employment matters. We can leverage this expertise to find solutions for healthcare providers too. We also work to stay up-to-date on changes to the Affordable Care Act and other legislation affecting employer health insurance, employee benefits, and other operational matters.
Local Government Counseling
The firm has a long history of representing local, political subdivisions on a wide range of practice areas such as public meetings and public records issues, zoning and land-use planning, financing, drafting legislation, water and sewer construction and regulation, annexation, employment/labor issues, tax levies and administration, economic development initiatives, airport and seaport operations and police and fire department contracts.
Mediation/Arbitration
Spengler Nathanson attorneys have mediated innumerable disputes before court-appointed mediators and mediators selected and retained by the parties to a dispute. Mediation can often result in a resolution of a claim and our attorneys are experienced in all phases of the mediation and arbitration process.
Personal Injury
Injuries arising from motor vehicle accidents, slip and falls, swimming pools, and other premises liability situations are a daily occurrence. Our attorneys have successfully represented the injured party and the defendant in countless personal injury cases. Our attorneys have solid expertise in federal and state courts throughout the state.
Political Subdivisions
A large percentage of our litigation and labor practice involves advising and representing political subdivisions such as counties, townships, cities, villages, police agencies, park districts, fair boards, county nursing homes, and schools districts and in representing these clients in administrative and court proceedings. We have expertise in the laws and regulations that apply to political subdivisions and their employees.
Premises Liability
Premises liability law is the body of law which makes the person who is in possession of land or premises responsible for certain injuries suffered by persons who are present on the premises. A premises owner faced with a lawsuit should notify his insurance carrier. Our attorneys have successfully defended premises owners against such claims for years.
Public and Administrative Law
Our attorneys enjoy a rich history representing public clients in Northwest Ohio, including school boards, port authorities, park districts, municipalities, counties, townships, airport authorities, and more. Our firm has been home to two former City of Toledo Law Directors, a former counsel to the Ohio Department of Commerce, and a former State Senator. We know the legal problems confronting local public bodies both as lawyers and as participants in the political process.
Public Employee Liability
Public employers and their employees are subject to liability for a broad array of claims that private employers and employees do not face. Spengler Nathanson's attorneys have expertise in these areas of the law.
Public Records and Open Meetings
Spengler Nathanson's extensive representation of school boards and other local and state governmental bodies has given us a wide range of experience dealing with Ohio's public records and open meetings laws.
Public Sector and Public Employee Defense
Public employers and their employees are subject to liability for a broad array of claims that private employers and employees don't face. Spengler Nathanson's attorneys have expertise in these areas of the law.
School Law
Our decades-long representation of area school boards has given Spengler Nathanson the opportunity to deal with most legal issues faced by schools. We deal regularly with teacher and administrator contracts, student discipline, special education, competitive bidding, public records and open meetings, religious expression, FERPA, attendance and tuition, and a host of other school concerns.
Strategy and Healthcare Innovations
The healthcare industry is ever-changing and with change comes innovation. Spengler Nathanson attorneys stand ready to be a strategic and innovative partner for many players within the industry, from health systems and providers to business start-ups.